Warpstock Europe 2016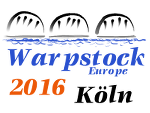 The OS/2 VOICE foundation is proud to announce that the Warpstock Europe 2016 conference will be held in Cologne, Germany in May. Hosted in the Youth hostel Köln-Riehl (link) you can enjoy 2 days of interesting presentations, meetings and socializing.
When: Saturday, May 21 and Sunday, May 22 2016.
Registration is closed, but you can still tune in using the live stream and participate through IRC.
Registration closed
The registration for Warpstock Europe 2016 has been closed; tickets are no longer for sale. 
If you want to hear and see what's happening at the conference you can always tune in to our live stream.
Schedule complete
The presentation schedule for Warpstock Europe 2016 is now complete. It's an interesting mix of technical and non-technical topics, as well as information from businesses related to OS/2.
Remember, you have until May 14 to buy your tickets for WSE 2016!
New speaker: Alex Taylor
WSE is glad to announce that we have a new presentation for our schedule: Alex Taylor will talk about Printing & Fonts, covering topics like CUPS, PostScript and installing new fonts on OS/2 and some the problems found and solved.
Alex (or should I say: Taylor-san) will give his presentation over Skype from Japan on Sunday, 14:15 CEST.
First speakers for WSE 2016
In the past weeks we have been working behind the scenes to fill our presentation schedule. We are happy to announce we have received confirmation that the following speakers will give a presentation at Warpstock Europe 2016:
David Azarewicz
Herwig Bauernfeind
Steve Levine
Keith Merrington
Lewis Rosenthal
Silvan Scherrer
Gregg Young
For more information, see our schedule. There are still a few slots open, so stay tuned for updates!